The Pros:
(There are MANY pros for this car. I'm only listing the ones we are very pleased about here.)
Fuel Economy.
At 4.2L per 100km (62 miles to the gallon) it is a hands-down winner.


Easy to park.
Parking is a no-brainer with this car. Although parallel parking does take a bit of getting used to because of the tight turning radius.


No key locks in doors.
Some people might say this is a con, but I think it is great. There's no way to open this car without breaking a window or using the remote. The rear hatch can also be opened via the remote. Very handy when your hands are full. The remote also works from up to 60 feet away!



The Cons:
The seat controls.
This is something I cannot understand. Basic adjustable seats have been around pretty much forever. My old Ford fiesta had what I would consider the bare minimum seats, but there was a lever to easily adjust the backrest to the appropriate level. On the smart driver side seat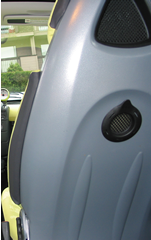 there is a flat knob on the right hand side of the back rest that you must rotate several times to move the backrest up or down. On the passenger side, you do not even have that ability! The chair is fixed in one position. Unfortunately this position is very uncomfortable for my back. The passenger chair can be folded down but I can't see how useful this is in real life. First off, in order to pull down the chair you have to take your left hand and pull the first lever back, then use your right hand to pull the second lever back and finally your third hand (a.k.a. head, shoulder or other body part) to nudge the chair back until it's past the locking point and then fold it down the rest of the way. The back of the chair is rounded, so nothing can sit on top of it without it rolling off with extreme ease. It is also quite a bit higher than the cargo compartment in the back. I believe it would've been far smarter to dispense with the folding chair and have a mirror image of the driver's chair instead. At least, this is what we are going to try to special order. If we can't, this could be a deal breaker.


The soft touch automatic transmission mode.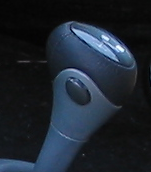 The computerized automatic mode (soft touch) is not as good as I was hoping. I get the feeling that it is shifting too early and loses power potential in the lower gears. It also has a noticeable lag between shifts. This can best be described by the feeling you would get if you rode a three stage rocket, the first stage has just ejected and you're waiting for the second stage to launch. It's that loss of acceleration, a pause and then the return of it. Also, the fact that you are not in control of when the gear is shifted tends to exaggerate the unpleasant feeling, due to the fact that you are not expecting it. I'm sure, in time, this feeling will lesson. The other slight annoyance with the soft touch is that if you put the car in neutral or reverse it kicks back into manual mode requiring you to press the button again to enter automatic mode.
(We've been told by people that the above is not the case. I swear I tried the below 4 times on the car we rented and it kicked out of auto each time I shifted from Drive to Neutral and back. But this is good news so disregard the above!)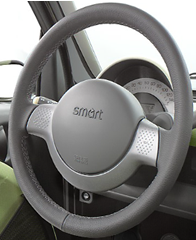 Lack of power steering.
The other item missing from this car is power steering. While not needed when the vehicle is moving more than 10 km an hour, for a person with chronic tendinitis in their hands and arms it can be a little annoying if the vehicle is stopped or moving very slowly. To be fair, this is more of a personal peeve and not really a car shortfall.
We just found out that the smart CAN in fact have power steering as an option! We have added it to our order. So the above no longer applies.

The End:
Overall, it was a very enjoyable experience and that it is indeed, a fantastic car. We are checking into a few things but as it is now, this test drive has only made us want this car all the more!


Last Updated 05/08/05 (Update: Fixed up the review to read better on the strikeout parts)